Area Rug Cleaning Services Orange County, California

Carpet Cleaning Repair/Installation Company Orange County, CA Rated 9.9 out of 10 based on 56 ratings.
949-226-6736
Location : Orange County, California
Email Us : info@greenfloorcare.com
Let Carpet Cleaner's top area rug cleaning specialists bring the patterns and colors of your rug back to its original beauty. Your fine rugs are valuable investments and should be treated as such. Area Rug Cleaning Service in Orange County is our most sought service. People might think that Rug cleaning and carpet cleaning are same services but its not true statement. Rug cleaning is an art there are Different techniques involved in Area Rug cleaning.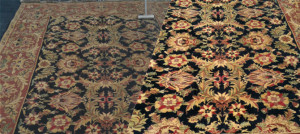 Rugs are Extraordinary soft and are very much cozy. They need a lot of expertness to clean a rug without causing any Damage to the fiber. We insure that the chemicals and Cleaning products are used by us will be washed away properly and thus makes the rugs and carpets suitable for pets & small children. We aimed to clean Rug without causing any loose to their shine and texture.